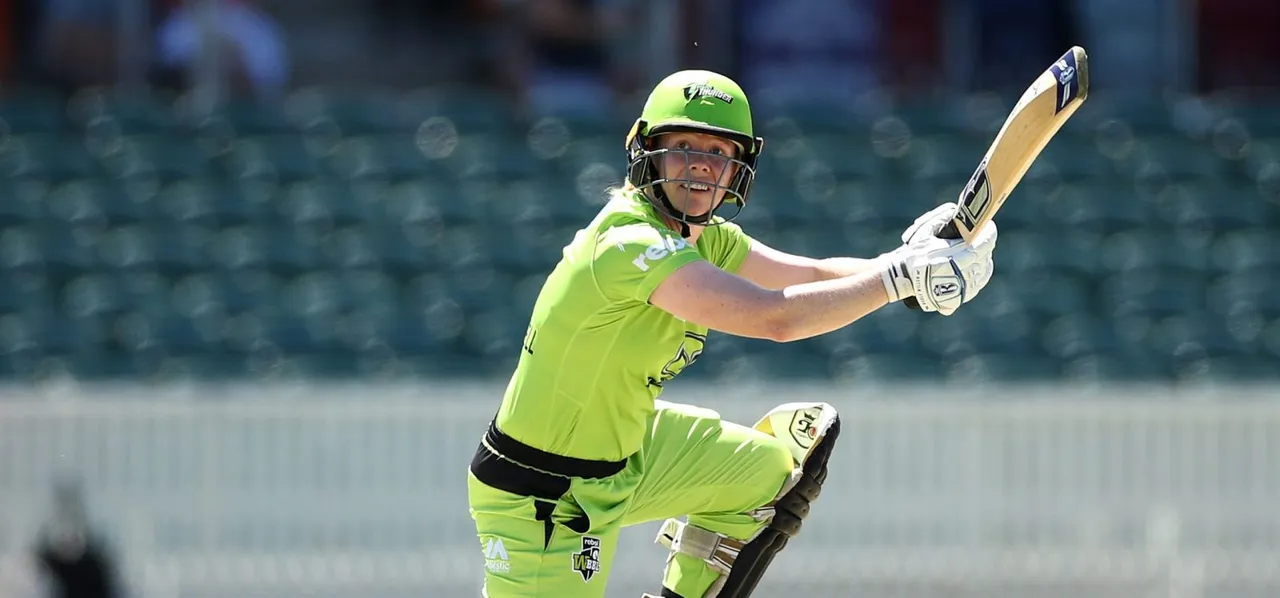 Alex Blackwell, former Australia and Sydney Thunder captain, announced her retirement from the Women's Big Bash League on Thursday (November 28), bringing her 18-year competitive career to a close. The veteran will play in Thunder's final league match of the season against Melbourne Renegades in St. Kilda on Sunday (December 1) with the hope of keeping Thunder's semi-final dreams alive.
Off the back of a match-winning half-century against Melbourne Stars on Wednesday (November 27), Blackwell announced to her teammates that she would step away from the game at the end of the season.
"I'd decided before the match that I was going to retire," said Blackwell. "It's got to come to an end at some point."
The right-hander sits seventh on the list of highest run-scorers in the WBBL with 1,751 runs at an average a tick over 35. With 71 matches under her belt so far, she is the most capped player from Sydney Thunder— male or female— and is also the club's highest scorer across genders.
Looking back on her career with the club, Blackwell admitted that the championship-run in the inaugural season of the WBBL in 2015-16 was one of her career highlights. In stark contrast, was Thunder's heart-breaking semi-final exit last season. It was something that prompted the veteran to play on for one final season.
"I was heartbroken, but also amazed, by last year's semi-final," she said. "I … well, a little bit selfishly … thought to myself, 'I've worked so hard to get to this point and contributed to cricket for a long period of time for it to reach this point'. I thought the WBBL was an amazing competition to be a part of and decided I could go again – and I'm pleased I did. It's been good fun, and I've enjoyed supporting Rachael Haynes because I think she's led the team very well."
Through a career that has lasted 18 years, Blackwell has played 12 Tests, 144 ODIs and 95 T20Is for Australia, scoring 5,250 international runs, while also turning out for New South Wales in 139 matches in the Women's National Cricket League (WNCL). She is the state's highest run-scorer in the competition with 4,788 runs at 46.94, including 11 centuries 30 half-centuries.
Among the many highlights of her time with Thunder, Blackwell mentioned seeing the growth and development of the new generation of players as one of her favourite things this season.
"There's been many highlights, but what's been really cool is watching the next generation of Thunder players grabbing their opportunities. It's been very special to be a part of that – I'm really satisfied."
"I've been really happy with mentoring out in the middle. I had an opportunity against the Stars to bat with <16-year-old> Phoebe Litchfield and Saskia Horley," she said. "It was good to talk to them about what the good options were to go to - and to help clarify in their minds what was on, and where to back themselves."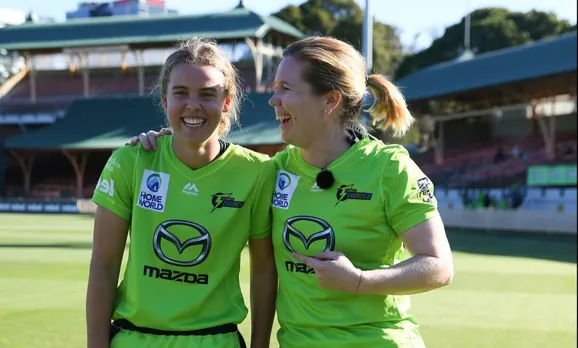 Chris Botherway, acting general manager of Sydney Thunder, hailed Blackwell's achievements for the club, adding that she inspired a generation of young cricketers to take up the game.
"Alex will be remembered as a Sydney Thunder legend," said Botherway. "She's also one of cricket's best ambassadors; proof the truly great players show class on and off the pitch."
"There are very few players who have done more than Alex to inspire boys and girls to fall in love with cricket, and many of her current teammates are among them. She has worked tirelessly to help build the culture we enjoy at Sydney Thunder. As someone who gave the club her all, Alex can retire knowing her legacy will endure."
As testimony to her importance to the club, the player voted Sydney Thunder's most valuable player of the WBBL season is presented with the Alex Blackwell Medal.
Having retired for Australia and New South Wales a couple of seasons ago, Blackwell's final match for Thunder— whenever it comes— will mark the end of what has been a distinguished 18-year career that started for NSW in 2001 and it set to end at the close of 2019.