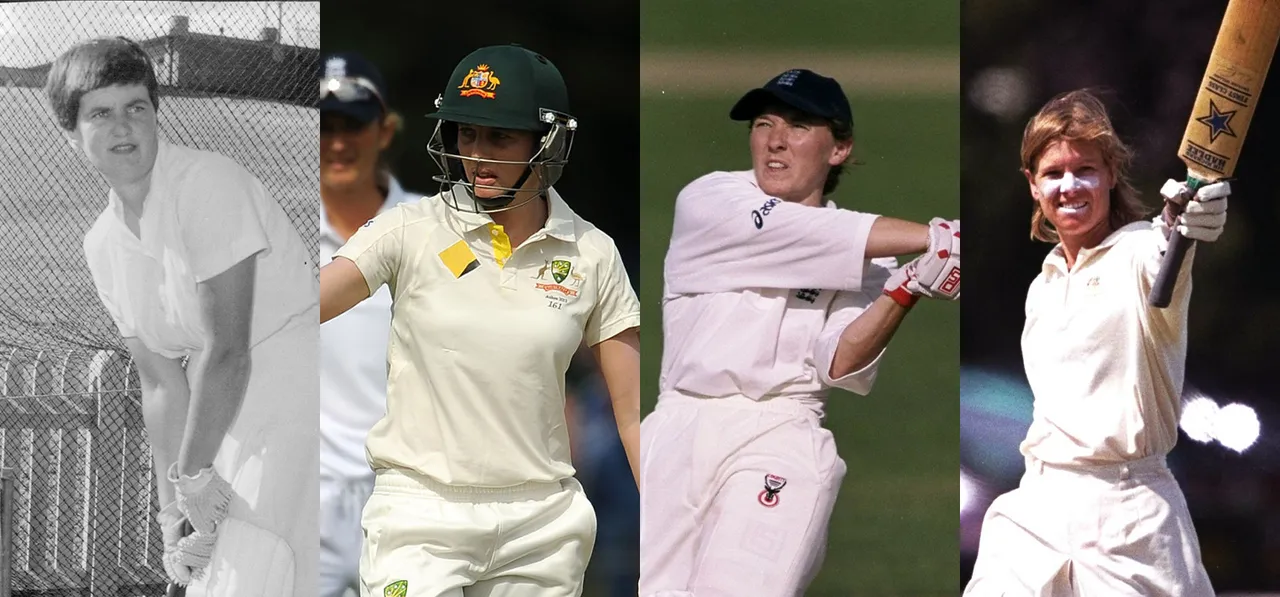 As athlete's cross the dreaded age of 30, one often hears the cliche 'age is just a number'. It is almost as if they are trying to convince themselves (while they attempt to convince the world around), that they aren't yet beyond their prime. Over the years there have been several athletes - across sports - who have defied the odds and achieved incredible things when most had written them off as 'too old' and therefore 'too slow'.
In today's list, 
Women's CricZone
takes a look at the only nine players who were over 30 years old when they scored their maiden Test hundreds. 
Nadine George (35y 152d)

118 v Pakistan in Karachi (2004)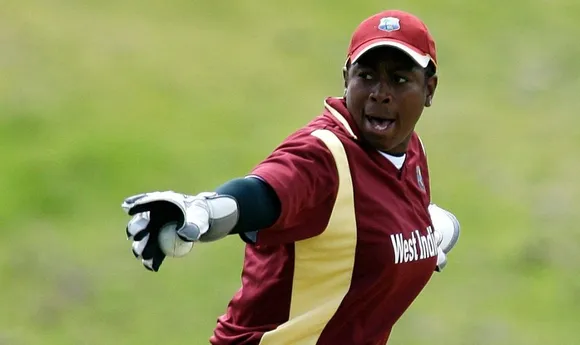 © Getty Images
West Indian Nadine George is the oldest to score a maiden Test century. Making her debut at the age of 35 years and 152 days, the left-handed wicketkeeper-batter proved everyone that age is just a number hitting a gutsy 118 off 285 balls against Pakistan in the second innings of the one-off Test in 2004. The knock actually saved Windies the blushes as they piled up 440 in that innings after being forced to follow-on. It was also the same match where Kiran Baluch scored a double century. Interestingly, West Indies haven't played a Test match since. 
Barbara Bevege (34y 44d)

100* v India in Dunedin (1977)
Like many others, New Zealand's Barb Bevege could have made a century on debut but missed out by a narrow margin of four runs. However, she didn't have to wait for long as Bevege scored her maiden ton against India only in her second Test in 1977. The right-handed opener carried her bat through the second innings to remain unbeaten on 100 not out in what turned out to be a drawn encounter. Her Test career consisted of just five games. 
Joanne Broadbent (32y 250d)

200 v England in Guildford (1998)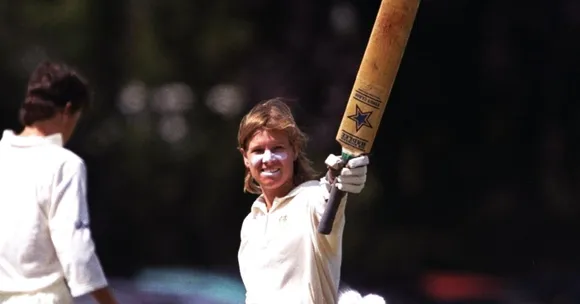 © Getty Images
Third in the list is Australian star Joanne Broadbent. In her 10-match Test career that spanned across eight years, Broadbent batted only on eight occasions. Although her first 12 innings consisted of seven DNBs, she capitalised on her 13
th
(eighth) go, batting for more than eight hours - a total of 476 balls - for a brilliant 200 in the first innings of the first Test during Australia's tour to England in 1998. It was the only three-figure score in her career. She then scored half-centuries in both innings of the next match. 
Edna Barker (32y 47d)

100 v Australia in Melbourne (1969)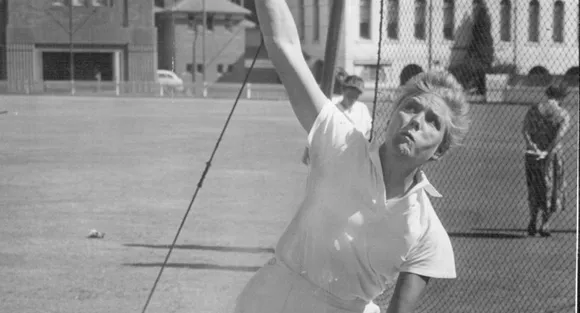 © Getty Images
Edna Barker, who passed away only last year in March, played 15 Tests for England. A right-handed batter, Barker initially used to go lower down the order at No.8 or 9. However, coming out at No.4, Barker smashed an exact 100 in the first innings of the second Test during their tour to Australia. At 32 years and 47 days she is the fourth oldest on the list. She also has three half-centuries to her name. 
Mary Duggan (32y 22d)

108 v New Zealand at Christchurch (1957)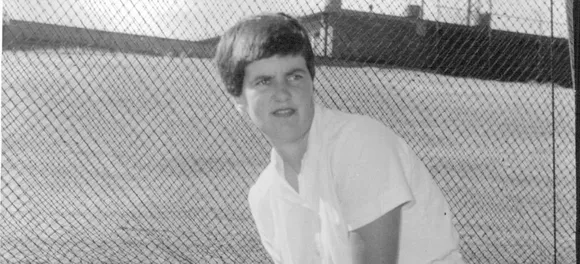 © Getty Images
A former England captain, Mary Duggan was a member of the team that toured Australia in 1948-49 and 1957-58. Duggan had a series of low scores during the start of her career but finally hit her stride in the first innings of the first Test during England's tour to New Zealand in 1957. She scored an important 108 after claiming six wickets in the first innings to help England take a vital lead. She was marginally younger than Barker when she achieved the feat at 32 years and 22 days. Duggan ended her career on a high note scoring 101 not out and bowling figures of 7 for 72 helping England to a 49-run victory over Australia at The Oval in 1963. 
Judith Doull (31y 235d)
103 vs England in Christchurch (1969)
New Zealander Judith Doull (also known as Judith McCarthy) had a pretty nice start to her career, making 74 and 33 not out on her Test debut against England in 1966. However, a series of low scores followed over the span of the next three years, the right-handed opener scored her maiden ton (103) in the first innings of the second Test at home aged 31 years and 235 days. In all, she played 11 Tests for New Zealand and was also a member of the side that played in the first-ever Women's World Cup in 1973. 
Sarah Elliott (31y 219d)

104 v England at Womsley (2013)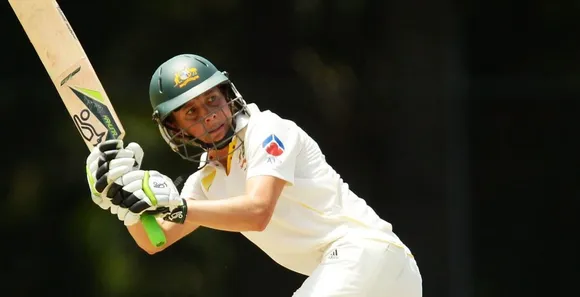 © Getty Images
During a career that comprised 39 international games for Australia, Sarah Elliott's only century came in Tests. Having made her ODI and T20I debut in 2005, Elliot got to play in whites for the first time during the 2011 Ashes scoring 81 not out on debut. But the then 31-year-old had to wait for two years for her second game when she reached her maiden three-figure mark pushing Anya Shurbsole for a single on the second day morning in the only Test at Wormsley. The match ended in a draw. 
Barbara Daniels (31y 190d)

160 v New Zealand at Scarborough (1996)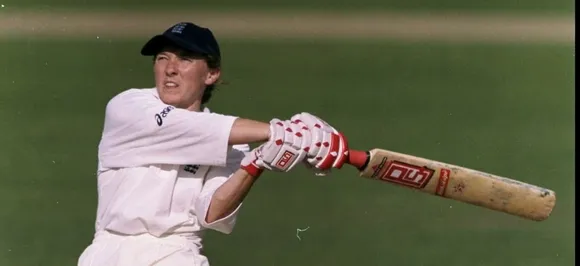 © Getty Images
It couldn't have been a better time to pop into the international scene for Barbara Daniels as she made her England debut during their triumphant 1993 World Cup campaign. While Daniels enjoyed a seven-year ODI career in which she played over 50 matches, she got to play only nine Test matches, with the only bright spot of 160 against New Zealand in 1996. Coming in at No. 3, Daniels took her time to settle in as wickets toppled around her. She forged an important 132-run partnership with Kathryn Leng - who also scored 144 - for the sixth wicket to take England to a challenging total of 414 in their first innings. The match ended in a draw. 
Jan Lumsden (30y 296d)

123 v England at the Oval (1977)
Australia's Jan Lumsden played just six Tests in her entire career that lasted a couple of years. Making her debut against West Indies in 1976, Lumsden scored her first half-century against England in her third game. She notched up her maiden ton in her penultimate Test, also against England in 1977 at the Oval. 
You can read more lists here.