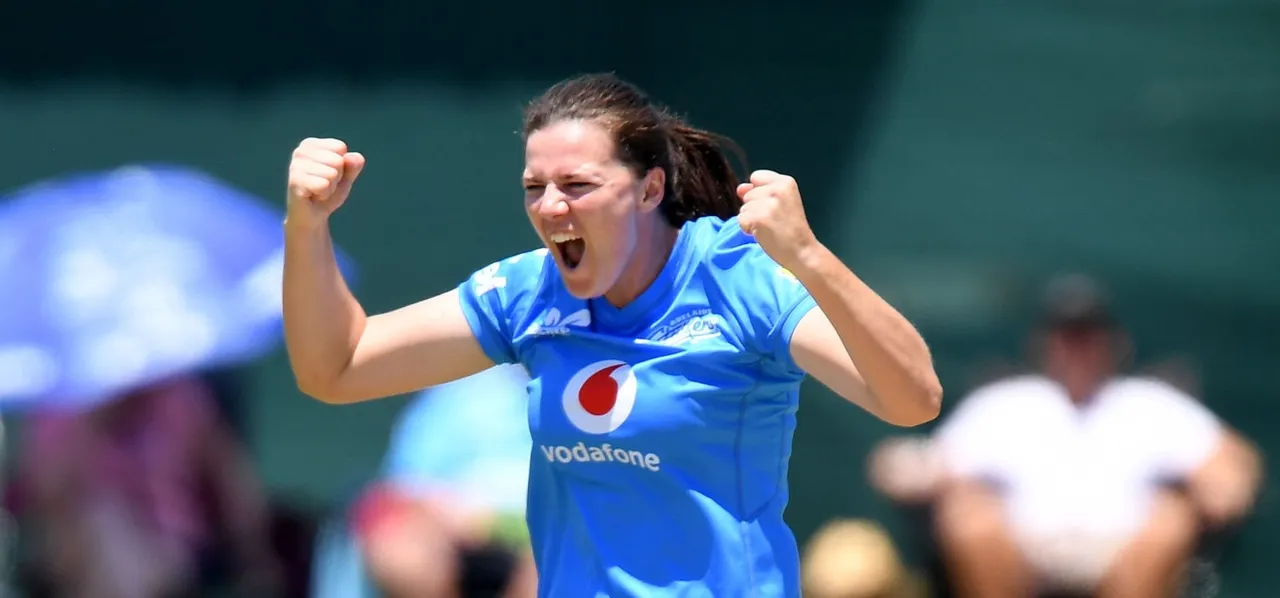 Australia allrounder Tahlia McGrath revealed how a conversation with Australia A assistant coach Scott Prestwidge in June last year helped turn her career around.
Having made her international debut in 2016, and featured in the first-ever women's day-night Test, McGrath suffered back injuries in 2017 and 2018 that meant she was unable to cement her place in the national side. Following her recovery, she seemed unable to find the gear that had seen her earn five international caps. Then, after a particularly disappointing outing against England for Australia A last year - she conceded 27 runs in an over - she wondered whether she should give up bowling altogether.
However, a conversation with Prestwidge convinced her otherwise.
ALSO READ: McGrath a replacement for Perry, potential future captain: Flegler
"She came off and she was pretty distraught, as you could imagine," Prestwidge told
cricket.com.au
. "It was her first trip to England, it was her first game … she's one of those characters that doesn't let a lot out, but you could just tell that she wasn't overly impressed with her spell."
The former Queensland fast bowler convinced the allrounder that she had the ability to be a world-class player, but needed to pay more attention to detail. Thus, a one-on-one session ensued where the pair attempted to get to the bottom of McGrath's bowling woes.
For starters, it seemed the mental scars of the injuries were hard to rid herself of, which meant she wasn't able to bowl full throttle. There was something holding her back.
"I was so self-conscious of breaking down again and not being fully confident that I probably needed someone to tell me, 'You're holding back, and you've got a lot more in you'," McGrath said. "I went through a stage where I was having an MRI basically every month. And even when I thought it was behind me, a bit of oedema would creep back in, so it was always in the back of my mind. I dreaded every MRI I had to have."
ALSO READ: Tahlia McGrath earns maiden national contract
Prestwidge realised that McGrath's constant focus on the technical aspect of her bowling meant she was losing her competitive edge.
"We tried a few (balls) where I just ran in and bowled flat out and I just noticed there was a massive difference between what I was doing and what I was capable of," she said. "From that conversation I thought, 'I can do it'."
Over the course of the rest of the tour - and the remaining part of the year - McGrath
impressed one and all
- including national selector Shawn Flegler - with her bowling, causing some of England's batters some "grief".
"(Flegler) turned to me and said, 'I don't know what you've said to her and what she's worked on, but she looks like a fair dinkum first-class cricketer that can play for Australia'," Prestwidge said.
https://twitter.com/StrikersWBBL/status/1230667453904105474?s=20
The allrounder went on to rack up 327 runs and take 14 wicket in the Women's Big Bash League, helping Adelaide Strikers reach the final. She then went on to
lead Australia A
to victory over India A in the one-day and T20 series at home.
ALSO READ: As long as we're not taking too big a hit, i'm okay with it: Megan Schutt
A few months later, McGrath's terrific run of form saw her earn a
maiden national contract
, and it now seems her path into the national side is much clearer, and she is now hungrier than ever to take full advantage of every opportunity that comes her way.
"It's tough looking back on it and it took me a very long time to get over it," she said. "But coming out of it, it's made me a better bowler. It's made me work on a few little tweaks to my action, it's made me work on my strength and my fitness. There's definitely been some positives to come out of it and hopefully it's full steam ahead from here."
"The fact that I haven't played a game (for Australia) for two-and-a-half years, the hunger is certainly been there to get back. To get a contract is just amazing news."