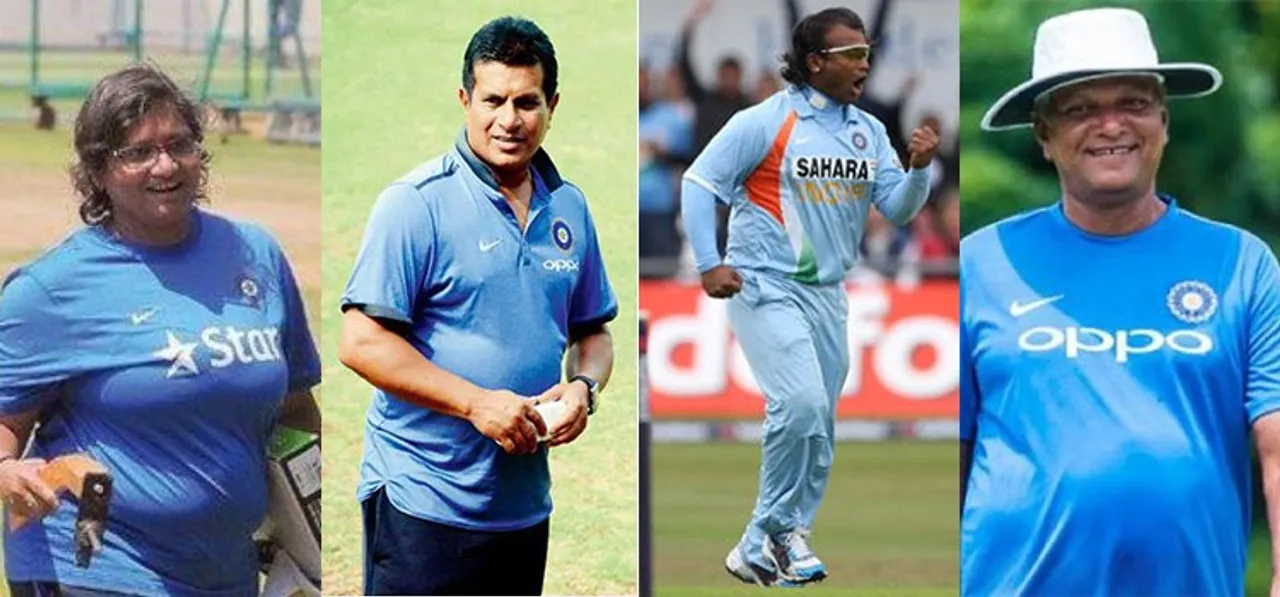 WV Raman's appointment as India's coach ended a saga that had started after Mithali Raj was not included in the playing XI against England for the World Twenty20 semifinal in Antigua last month. Powar's three-month contract expired on November 30, and an ad-hoc committee of Shantha Rangaswamy, Kapil Dev and Aunshuman Gaekwad was formed to select the new coach. Raman is now India's fourth coach in 20 months.
The legendary Lala Amarnath was the first coach of the women's national team when they played their maiden Test series against West Indies. Tej Kaul, whose son Siddarth now plays for India, toured with the team to England in 1986, but after that there was no cricket till the tour of Australia in 1991 when Rajesh Nayyar nee Walia, a wicketkeeper-batter and now settled in New Zealand, was the coach. India lost the three Test series 0-2. 
Women's CricZone
looks at the timeline of Indian coaches from 1993 when the frequency of cricket matches increased.
Sreerupa Bose (1993 to 1997)
Tests: 4 (Lost - 1, Draw - 3)
ODIs: 22 (Won - 14, Lost - 7, Tie - 1)
Captains: Purnima Rau, Pramila Bhat
Highlights:



Triangular Centenary Cup triumph in New Zealand in 1995 – India's first silverware




India's first semifinal appearance in the World Cup, at home in 1997



Lowlight:



On the final day of the Jamshedpur Test against England in 1995, Bose left the dressing room soon after the start of the mandatory overs in the final hour. India lost by two runs – the narrowest margin in the history of Women's Tests



Controversy:



Bose allegedly slapped Rau in New Zealand before the start of the Centenary Cup in Christchurch when the captain wanted to let go of her single room and requested to be put along with a teammate



Sudha Shah (1999)
Tests: 1 (Draw - 1)
ODIs: 4 (Won - 3, Lost - 1)
Captain: Chanderkanta Kaul
Highlight:



The tour of England where Mithali made a century on her ODI debut against Ireland – it got official status much later – was India's first assignment after the World Cup




Anjum Chopra's 110-ball 52 on a difficult surface in Manchester and 100 off 128 balls on a good batting pitch in Northampton helped India record their maiden series win over England



Sreerupa Bose (2000)
ODIs: 8 (Won - 3, Lost - 1)
Captain: Anju Jain
Lowlight:



India lost to New Zealand in the World Cup semifinal




The campaign became difficult in the absence of Mithali after three matches and Kavita Roy getting injured. Also the bowling action of Rau and Renu Margrate came under scrutiny, and the batting order was constantly shuffled to make up for the absence of Mithali



Controversy:



Shah conducted the pre-World Cup camps as coach, but by the time the team landed in New Zealand Bose had become the designated coach. 

Shah was introduced as the team manager, and spent major part of the tour attending to an ill Mithali in the hospital



Tarak Sinha (2002 to 2003)
Tests: 3 (Won - 1, Draw - 2)
ODIs: 22 (Won - 9, Lost - 12, No result - 1)
Captain: Anjum Chopra
Highlights:



Whitewashing England in the ODI series at home in early 2002




Beating South Africa in the one-off Test in Paarl. It was India's first Test win since their maiden success against West Indies in Patna in 1976




Five batters scored a fifty in India's first innings against South Africa – the most in a Women's Test




It was the first time that India enforced follow-on




Mithali's 214 against England in Taunton in 2002 was the then highest individual score in a Test match



Lowlights:



Losing the ODI series 1-2 in South Africa




Getting dismissed for 26 in an ODI against New Zealand in St. Saviour in 2002. It remains the fourth-lowest total in ODI history




India were dismissed for less than 100 in all their three completed matches in that triangular series which also involved England



Sudha Shah (2003 to 2007)
Tests: 5 (Won - 1, Lost - 1, Draw - 3)
ODIs: 67 (Won - 42, Lost - 23, No result - 2)
T20I: 1 (Won - 1)
Captains: Mamatha Maben, Mithali Raj
Highlights:



ODI series win against New Zealand and West Indies at home




First ever World Cup final appearance, in South Africa in 2005




Asia Cup win in 2004 and successful defence in 2006




India win their maiden T20I, against England in Derby in 2006




First-ever Test series win in England in 2006. Jhulan Goswami took ten wickets in that win in Taunton. She is the only Indian to have achieved the feat



Lowlight:



Finishing fourth in the Quadrangular Series in Chennai in 2007. Australia, New Zealand and England were the other teams



Shantha Rangaswamy (2008)
ODIs: 10 (Won - 5, Lost - 4, No result - 1)
Captain: Mithali Raj
Highlight:



Successful Asia Cup defence in Sri Lanka after which BCCI announced a cash prize of Rs 5 lakhs for each member of the playing unit



Lowlight:



The ODI series loss in England. India were without most of their senior players



Sudha Shah (2008 to 2010)
ODIs: 17 (Won - 8, Lost - 9)
T20Is: 8 (Won - 3, Lost - 5)
Captains: Jhulan Goswami
Highlights:



Finish third in the 2009 World Cup in Australia, beating the home team twice




Qualify for the semifinals of the inaugural World T20 2009 in England. They lost to New Zealand



Controversy:



Chasing 184 in an ODI in Bangalore in February 2010, India became 16 for 4 and soon MD Thirushkamini got injured. Mithali waged a lone battle, and it boiled down to four needed off three balls with one wicket in hand. Mithali was stranded on 91 as Shah had sent Thirushkamini back to the hotel. It allegedly did not go down well with the players. It is believed to be one of the reasons why KVP Rao replaced Shah just before the 2010 World T20



KVP Rao (2010)
T20Is: 4 (Won - 2, Lost - 2)
Captain: Jhulan Goswami
Highlight:



Qualify for the semifinals of the World T20 2010 in the Caribbean. They lost to Australia.



Anju Jain (2011 to 2013)
ODIs: 25 (Won - 10, Lost - 15)
T20Is: 25 (Won - 9, Lost - 16)
Captain: Jhulan Goswami, Anjum Chopra, Mithali Raj
Highlight:



India's successful chase of 230 against England in an ODI in Lord's in 2012, with Mithali leading the way with 94 not out. She rates it as one of her best knocks. Goswami's 4 for 20 helped India defend 129 in the next match in Taunton



Lowlights:



Finishing third in the ODI and T20I quadrangular series in England in 2011




First round exits from 2012 World T20 in Sri Lanka (which included India's first-ever loss against Pakitan) and 2013 World Cup at home




Losing home series against West Indies and Australia



Controversy:



Change of captains




Anjum's allegations against Anju that she did not want her in the team



Tushar Arothe (2013)
ODIs: 3 (Won - 3)
T20Is: 3 (Won - 3)
Captain: Harmanpreet Kaur
Highlight:



With seniors like Mithali and Goswami rested for the home series against Bangladesh, youngsters like Smriti Mandhana made their first impression



Purnima Rau (2014)
ODIs: 3 (Won - 3)
T20Is: 11 (Won - 7, Lost - 4)
Captain: Mithali Raj
Lowlight:



Lose the bilateral T20I series against Sri Lanka at home




First round exit from the 2014 World T20 in Bangladesh



Sudha Shah (2014)
Tests: 2 (Won -2)
ODIs: 5 (Won - 1, Lost - 3)
T20Is: 1 (Lost - 1)
Captain: Mithali Raj
Highlight:



In their first Test match in eight years, India beat England in Wormsley. They follow it up with an innings win against South Africa in Mysore where Thirushkamini (192) and Punam Raut (130) put a second-wicket stand of 275. After that Harmanpreet finishes with match-haul of nine wickets



Lowlight:



Losing ODI series against England, and both the white-ball formats against South Africa at home



Purnima Rau (2015 to 2017)
ODIs: 20 (Won - 16, Lost - 4)
T20Is: 20 (Won - 11, Lost - 9)
Captains: Mithali Raj, Jhulan Goswami, Harmanpreet Kaur
Highlights:



First-ever series win over Australia when India beat them in the T20Is in Adelaide and Melbourne in January 2016 for a scoreline of 2-1.




Successful defence of Asia Cup




ODI series wins at home against New Zealand, West Indies, Sri Lanka




World Cup Qualifier title win




Overseeing most of the 16 consecutive ODI wins – second behind Australia's record of 17 wins.



Lowlight:



First round exit from the 2016 World T20 at home




T20I series loss against West Indies at home



Controversy:



After returning from the World Cup Qualifier, three seniors met BCCI requesting for a better coach for their preparation for the 2017 World Cup. Rau was replaced by Arothe.



Tushar Arothe (2017 to 2018)
ODIs: 23 (Won - 14, Lost - 9)
T20Is: 15 (Won - 8, Lost - 6, No result - 1)
Captains: Mithali Raj, Harmanpreet Kaur
Highlights:



India's second World Cup final appearance, in England in 2017, built on the back of Harmanpreet's 171 not out against Australia in the semifinal




Goswami and Mithali become the highest wicket-taker and run-getter in ODIs respectively




ODI and T20I series win in South Africa in 2018



Lowlight:



ODI series loss against Australia in Baroda in 2018 followed by last place finish in the T20I triangular series in Mumbai which also involved England.




T20 Asia Cup final loss to Bangladesh



Controversy:



Soon after the Asia Cup loss Arothe resigned as coach very early into his two-year contract because of difference of views with the captain.



Ramesh Powar (2018)
ODIs: 3 (Won - 2, Lost - 1)
T20Is: 10 (Won - 8, Lost - 1, No result - 1)
Captains: Mithali Raj, Harmanpreet Kaur
Highlights:



ODI and T20I series win in Sri Lanka




Topping the group for India's first World T20 semifinal appearance after eight years



Lowlight:



World T20 semifinal loss against England after deciding to not field Mithali



Controversy:



Differences between Powar and Mithali get publicised through a series of leaked emails, after which BCCI do not renew his contract. He re-applies after Harmanpreet and Smriti show their support, but the ad-hoc committee do not name him in their shortlist of three candidates – Gary Kirsten, Raman and Venkatesh Prasad. Kirsten, the first preference, is not eligible because of his Indian Premier League commitments. 



Overall figures from 1991 to 2018:Matches:
348 (18 Tests, 232 ODIs, 98 T20Is)
Wins:
192 (4 Tests, 135 ODIs, 53 T20Is)
Losses:
139 (4 Tests, 92 ODIs, 43 T20Is)
Average matches per coach: 
34.8

Average matches per change: 
21.75
Tally of matches for each coach:

Sudha Shah – 111

Purnima Rau - 54
Anju Jain – 50
Tushar Arothe – 44
Sreerupa Bose – 34
Tarak Sinha – 25
Ramesh Powar -13
Shantha Rangaswamy – 10
KVP Rao – 4
Rajesh Nayyar - 3
To know more details of these events, buy your copy of
The Fire Burns Blue - A History of Women's Cricket in India
here
.